What is the Ultimate Men's Facial Experience?
The Ultimate Men's Facial Experience is our most decadent and medical advanced facial for men.  This facial has been featured in many magazines, newpapers, and blogs as a truly unique facial, "not to be missed!"   Some of the highlights include oxygen, LED therapy, ultrasonic cleansing, enzymatic exfoliation, and multiple masks customized to men's skin needs and goals.  This Ultimate Facial Experience is an amazing treat for you or can make an ideal gift for a special person.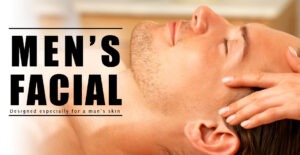 What will happen during my Ultimate Men's Facial?
The Ultimate Men's Facial Experience begins with a double action ultrasonic cleansing of your skin using micro exfoliation to jump start skin stimulation and rejuvenation. Firstly, steam will be used to open pores and gently enhance the penetration of key ingredients into your skin. Highlights include Acupressure and lymphatic massage techniques with essential oils focusing on stress release and deep relaxation. Then, natural and organic acids are used to brighten your skin and create a natural glow. Finally, medical grade and organic serums are infused into your skin with an Oxygen Facial. LED treatments are specifically combined to create the ultimate customized effect. In addition, LED treatments or photo-rejuvenation are used to accelerate cellular metabolism and collagen production, resulting in smoother and softer skin. Light Therapy evens out skin tones, plumps out small wrinkles, and tightens skin.  This scientifically developed medical grade Ultimate Facial Experience incorporates all the newest techniques in one decadent treatment experience that will be customized men's skincare goals and needs. Our professional staff will teach you advanced medical home skincare techniques to ensure continued improvement in your skin at home. 80 minutes.
Book Now
What Other Facials Do You Offer?
To learn more about all our facials click here.
Contact Us
[/vc_column][/vc_row]