We are Not Just Another Massage Place...We offer unique, customized physician directed Massage, Body Treatments, Body Scrubs & Wraps in a five star, luxurious resort setting.  Essent Spa features Fresh natural, vegan and gluten free products in our treatments. Read why Philadelphia Style Magazine says our massages are not be missed!
What is the Aromatherapy Massage Experience?
We developed the Aromatherapy Massage Experience as a physician/medical grade massage using multiple essential oils both topically and inhaled to improve your body and body relaxation.  Our therapists combine essential oils and advanced massage techniques to relax or treat complex injuries.  We specialized in developing a treatment plan customized for your condition.  The Aromatherapy Massage Experience is an amazing treat for you or can make an ideal gift for a special person.
Book A 50 Minute Aromatherapy Massage Online
What will happen during my Aromatherapy Massage Experience?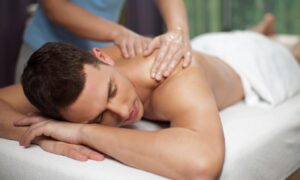 Let your sense of touch and smell transport you to a whole new level of relaxation and detoxification. Our custom developed aromatherapy experience begins with oils infused with organic extracts from herbs, flowers, and fruits. Steam treatments are used to increased blood flow and improve product penetration. Your therapist may allow you to select or may direct your aromatherapy essence to suit your skin care, relaxation, and detoxification goals. 50 Minutes/80 Minutes
What Essential Oils Do You Include?
We often have rotating choices of essential oils, but here are some of our most popular essential oils.
RELAXING: French Lavender Oil is known to reduces inflammation and promotes tranquility.
UPLIFTING: Wintergreen Oil was used by the Native Americans to help treat respiratory tract infections and promote well being.
INVIGORATING: Peppermint Oil is one of the oldest herbs used for medicinal purposes. The health benefits of peppermint oil have been documented back to 1,000 BC and have been found in several Egyptian pyramids.  Enjoy natural energy stimulation with this enhancement.
WELLNESS: Orange oil is powerful antioxidant that fights free radical damage and inflammation.  Known for increasing immunity and as a natural antibiotic, this enhancement is not to missed.
Book A 50 Aromatherapy Massage Online
Book A 80 Aromatherapy Massage Online
What Can be Added to my Aromatherapy Massage Experience?
To learn about our Massage Add-Ons CLICK HERE.  Please be sure to book this add-ons when booking your massage.  You can always call us for assistance at (484) 580-9063.
Contact Us
[/vc_column][/vc_row]