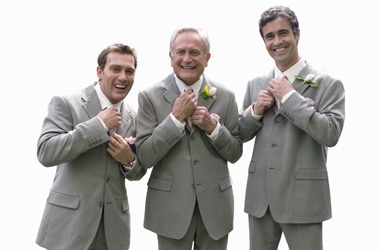 Your wedding is one of the most important days of your life, and we want to help you look your best. Let our experienced professionals help you reach your wedding day goals! The treatments which are part of Groom Get Ready package are designed for men and are ideal for the groom, father of the groom, father of the bride, and groomsmen. This program must start a minimum of 6 weeks prior to your event and can be coordinated with your bride as a luxurious pre-honeymoon bonding time.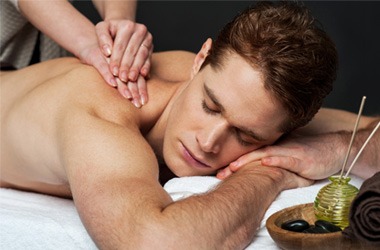 Essent Ultimate Men's Facial Package of Two Treatments
The experience begins with a double action ultrasonic cleansing of the skin using micro exfoliation to start skin stimulation and rejuvenation. Steam will be used to open pores and will gently enhance the penetration of key ingredients deeply into your skin. Acupressure and lymphatic massage techniques with essential oils focusing on stress release and deep relaxation. Medical grade and organic products are used to increase circulation, hydrate, and detoxify the skin. Allow us design customized masks and exfoliation techniques based on your specific skin goals, needs and conditions. 80 minutes per session
Book Now
Mineralizing Body Scrub and Sea Wrap with Shower Experience
(One week prior to your event)
Feel the power of the ocean as plants from the sea re-mineralize your skin by providing valuable vitamins and antioxidants. Your skin will be gently exfoliated using a seaweed derived body scrub. Then you'll receive a scalp and foot massage while cocooned in a warming, seaweed body mask and wrap. Gentle soothing rain from our handheld fully adjustable shower head relaxes your body and mind as warm water rinses away all sea extracts. Finish the experience with a massage, using sea derived body lotions and essential oils that will deeply replenish your skin and relax your entire body and mind. Medical grade and organic products are used. 50 minutes
Essent Ultimate Men's Massage
(One day before your event)
This treatment is a designer massage designed exclusively for men. Jumpstart this experience with moderate to deep pressure in Swedish massage technique to reduce stress, stimulate the nervous system, and improve circulation This is followed by Shiatsu massage acupressure which is used to relax your entire body. Reflexology is performed on your hands and feet to stimulate nerve endings with trigger points that correlate to specific areas of your body. Using acupressure points especially effective for men, your therapist will enhance your relaxation and reduce your pain. Finally,smooth Volcanic Hot Stones are used to further enhance circulation and to relieve stress and tension from your entire body. Scalp Massage is includedto improve circulation to your head, neck, and scalp. This treatment will relieve tension and improve any headaches. Steam treatments are used to increase penetration of organic skincare products. The Essent Ultimate Men's Massage is the pinnacle massage experience, integrating multiple massage techniques in a custom tailored massage designed for the male body. Medical grade and organic products are used. 80 Minutes
Illuminating Oxygen Facial
For Gentlemen (One to two days before the event)
Jump start this treatment with double action exfoliation with ultrasonic cleansing. Steam will be used to open pores. Our expert staff will infuse a custom tailored serum into your skin using oxygen. High pressured oxygen will enhance the penetration and effect of the serum and stimulate more collagen formation. This treatment has immediate anti-aging results with no downtime. Your skin will glow for your wedding day photos. A stimulating massage and single layer hydrating mask will improve skin texture and tighten pores. Finish this experience off with a sun protecting moisturizer.
Botox and Filler Experience
(optional)
Look more relaxed by treating any wrinkles with Botox. In addition, fill any facial lines with our dermal fillers. These treatments will be performed by our professional staff, three weeks prior to your event. Additional fees apply.
Botox/Dysport Experience
Enjoy your time at the spa and reduce your horizontal forehead wrinkles, your vertical lines between the brows (glabellar lines), your crow's feet at the edges of the eye, and wrinkles around your lips or "smoker's lines." Some of these facial wrinkles occur because your facial muscle contract unnecessarily and repetitively causing folds and wrinkles. Botox and Dysport target these facial muscles and help them to relax. The result is a temporary smoothing of wrinkles caused by overactive muscles. Botox and Dysport are only used in wrinkles caused by overactive muscles. Again, the most commonly used areas are your horizontal forehead wrinkles, your vertical lines between the brows (glabellar lines), your crow's feet at the edges of the eye, and around your lips for "smoker's lines". Your other facial wrinkles can be better treated with injectable fillers and laser skin resurfacing. Botox and Dysport treatments are a quick and minimally invasive procedure. Although you will see a marked improvement, a treatment with Botox or Dysport does not make you look like you have "had work done." You can expect to see results within three to ten days after your treatment, and the visible results have been shown to last up to four months*. Additional fees apply. *individual results vary
Filler Experience
Restore a more youthful fullness to your face with an injectable filler while you relax at the spa. As you age, your face naturally loses volume, causing your face to appear older. Commonly seen are sunken cheeks, hollows under the eyes, deep nasolabial facial folds, and hanging sagging skin in jowl area. By injecting a naturally occurring filler, we can restore your facial volume to give you a more youthful, fresher appearance. You may also want to use fillers for depressed scars and deep lines around the mouth due to aging or genetics, and sagging skin on the hands. Additional fees apply.
Book Now