Filler placement is a combination of art and science.  Be sure you see an expert. At Essent Spa, we offer highly trained staff under the supervision of Dr. Alison Abiri, advanced injection techniques, high quality materials, and a relaxing spa setting.
What is Restylane Refyne?
Created for areas of facial movement, Restylane® Defyne helps smooth out moderate laugh lines (nasolabial folds and marionette lines). Using innovative cross-linking technology, Restylane Refyne is a hyaluronic acid dermal filler that is able to restore a youthful, natural-looking appearance.
Book your Filler Experience Online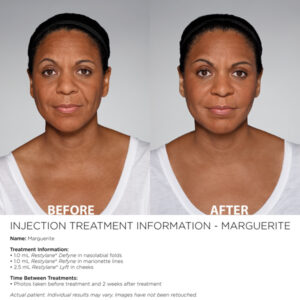 Is this treatment right for me?
As our skin loses elasticity with age, we begin to recognize that some facial lines become more noticeable. Common areas of concern include the lines that run from the sides of your nose toward the corners of your mouth (nasolabial folds) and the lines that run from the corner of your mouth toward the chin (marionette lines). Refyne is perfect for the deep lines that are in these areas because it is more flexible and designed for areas of the face with more movement.  For wrinkles of the upper face that become more apparent with movement, you may see better results with botox.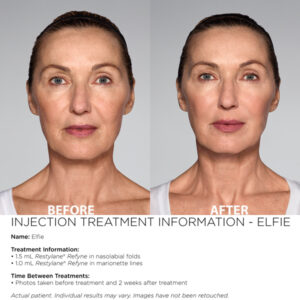 What will happen during my visit?
Each procedure is slightly different, but all of them contain a few of the same basic steps. You  will check into the spa and our professional staff under the supervision of Dr. Alison Abiri will determine which area(s) of your face should be injected in order to provide you with optimum results. Once we have our plan, we will inject the filler using either a fine needle or a cannula system. There is very minimal discomfort.  Most clients continue with their day after they leave the spa.  There is minimal to no downtime.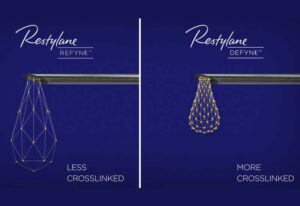 What will be my recovery?
Though each procedure is slightly different, there is no real downtime after fillers.  We ask that you do not press on your face or have a massage for 24-48 hours after your fillers.  There is a small chance of bruising after injection.  We minimize this risk by using a cannula system whenever possible.  The cannula is similar to a blunt drinking straw and does not typically cause bruising.  If there is any bruising, it usually can be easily covered with makeup.  We recommend you schedule filler injections at least two weeks before a major event.
What will be my followup?
Your filler injection includes a complimentary follow-up visit at one week after your injection.  First time clients and those using more than one syringe of filler will get a complimentary express facial at that time ($100 value).  We recommend you schedule your re-treatment at the time of injection for 6-9 months after your initial treatment.