Learn from an expert as Dr. Alison Abiri answers her client's most frequently asked question about injectable fillers.  She sees patients from Bryn Mawr, Wayne, Philadelphia and surrounding neighborhoods.
Is this the right Treatment for me?
Dermal fillers were developed to correct volume loss (most often caused by normal aging) of the face. We use fillers to treat a wide range of different age-related concerns. We customize your treatment with the correct type of filler for your specific concern. Many of our clients use fillers to reduce wrinkles, facial folds, and fine lines. Others clients turn to fillers to increase volume in the cheek, temples and chin. Of course, those who follow social media know that dermal fillers can also be used to plump up and augment your lips. For clients who have suffered severe acne and continue to live with acne scarring, dermal fillers can be used to diminish those indentations or "pock" marks.
Book Your Filler Treatment Online
As the name implies, fillers fill in areas of volume loss under the skin due to lose of subcutaneous fat and other environmental factors.  We use naturally derived, hyaluronic (HA)  fillers at Essent Spa. These fillers are the safest on the market and provide the most natural results. HA is a substance that occurs naturally in the body, and gets broken down over time. You can expect your filler to last anywhere from 6 months to 1 year or more depending on the type of filler used and location on your face.  You can even have an HA filler dissolved via another injection if you decide you know longer want the filler.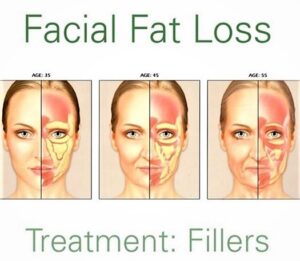 When will I Notice the Effects of my Treatment?
You will notice the results immediately after your treatment.  Often, we show you one side before the other is complete, so you can see the difference!  Final results are best seen two weeks to one month after your injections.
Which type of Wrinkles will Improve with my Treatment?
Wrinkles that are created by volume loss are drastically improved with fillers. These wrinkles are referred to as "static" wrinkles, and are usually prominent when the muscles are relaxed. In contrast, a "dynamic" wrinkle which is present when the face is in motion and can see dramatic improvement with botox.
How Long Will My Treatment Last?
Fillers last for different amounts of time for various reasons.  First, the location of injection is the most important.  Areas that have more movement tend to breakdown filler faster.  An example of this type of area is around the mouth or within the lips, which tend to have results lasting 6 to 9 months.  In contrast, injections to the cheek area, which has less movement, last one year or longer.
The type of filler, also, affects how long it lasts.  Of the natural, hyaluronic acid fillers, we find that Restylane Lyft lasts the longest and Restylane Silk the shortest amount of time.  We try to use the longest lasting filler that will meet your specific needs.  Remember that all fillers will require re-injections.  For the most natural and best results, you should plan your followup treatment when you do your initial injection.
Our treatment cost vary based on the type of filler you need.  Prices start as low as $550 per syringe.  Included a followup visit at one week.
First time clients and those using more than one syringe qualify for a complimentary express facial ($100 value) at the time of your follow up visit. 
Often, we offer promotions through the manufacturer of Restylane.  Be sure to sign up at www.galdermarewards.com to collect loyalty points for discounts on your treatments!