Dr. Alison Abiri developed the MyoPercussive Body Treatment as a physician/medical grade Deep Tissue and Myofascial precussive massage treatment of the entire body.  Using multiple customized techniques, we improve your circulation, muscle soreness, mind and body relaxtion.  Our  licensed professionals will customize your treatment using a precussive massage techniques with exfoliation and effleurage lotion application. We specialized in developing a treatment plan customized for your condition.  The MyoPercussive Body Treatment is an amazing treat for you or can make an ideal gift for a special person.
Book A 50 MyoPercussive Body Treatment Online
What will happen during my MyoPercussive Body Treatment?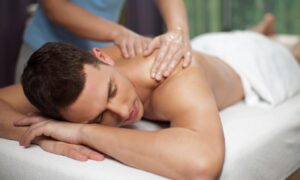 A full dry myopercussive treatment of the entire back will warm and loosen the muscles to start the treatment.  While you are having a steam treatment of your back, we will apply lotion and push it into your skin using our myopercussive device.  Target areas of discomfort and trigger points will be emphasized. You will have a full body exfoliation preformed, we will use a sugar or salt scrub per your preference for a body exfoliation followed by a brief rainfall shower.  Finish the experience with a soothing body lotion application using effleurage techniques. (80 minute experience includes an optional mini-facial) 50 minutes/80 minutes

What is included in the MyoPercussive Body Treatment?
Our MyoPercussive Body Massager is an amazing tool used by our professional staff. Some Important Treatment goals include:
Vibration and Frictional Heat: By utilizing rotational energy, we are able to generate distributed heat that instantly relaxes your muscles.
Increase Circulation: increased blood flow is essential for muscle repair and formation.
Enhance Myofascial Release: This powerful and adjustable technology allows deeper levels of myofascial release than massage alone.
Book A 50 MyoPercussive Body Treatment Online
Book A 80 MyoPercussive Body Treatment Online
What Can be Added to my MyoPercussive Body Treatment?
To learn about our Body Treatment Add-Ons CLICK HERE.  Please be sure to book this add-ons when booking your body treatment.  You can always call us for assistance at (484) 580-9063.
Contact Us
[/vc_column][/vc_row]