What is a Body Exfoliation with Detox Mud Wrap?
Dr. Alison Abiri developed the Body Exfoliation with Detox Mud Wrap as a physician/medical grade exfoliation and detoxification using multiple customized techniques designed improve your skin, mind, and body.  Our  licensed professionals will customize your treatment using a combination of exfoliation technique—from dry brushing to sugar or salt scrubs—before being covered in mud that Dr. Alison Abiri designed herself using Hawaiian volcanic ash, Australian mud and red clay. We specialized in developing a treatment plan customized for your condition.  The Body Exfoliation with Detox Mud Wrap is an amazing treat for you or can make an ideal gift for a special person.
Book A 80 Body Exfoliation with Detox Mud Wrap Online
What will happen during my Body Exfoliation with Detox Mud Wrap?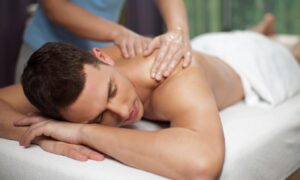 A full dry brush with exfoliation prepares your skin for this decadent experience. Minerals from ash have been boiling and fermenting for centuries, creating a highly potent blend of sulfur, spring water and phytoestrogens. These elements have been combined into an Herbal Volcanic Mud Masque that is used to detoxify, purify and stimulate your lymphatic system, releasing toxins and excess fluids from the skin. First your body is dry brushed to loosen dead skin debris, cleansed and then treated to prepare for an herbal masque. Next your body is wrapped to encourage circulation and perspiration, which releases toxins from the skin. Finish the experience with a soothing body lotion application. (110 minute experience includes a mini-facial) 80 minutes/110 minutes

What is included in the detox mud wrap?
Our Volcanic Detox Mud is a unique product by Spa Script MD.
Australian Moor Mud:  Luxuriously rich nutrient peat formed by the gradual transformation of herbs, plants & flowers which have been permanently submerged under water or underground. Moor Mud is know around the world for it antibiotic and detoxifing properties, and is used in the spa as a highly effective form of treatment for acne, eczema and psoriasis.  We also love it because it relieves the suffering associated with arthritis and rheumatism.  For with sports related injuries, moor mud soothes muscle aches, reduces joint inflammation, and stimulates the immune system.
Hawaiian Volcanic Ash, Bentonite Clay, Colloidal Clay: These clay have been used over many centuries for detoxification of the body.  When applied topically, clay is thought to being able to draw-out toxins from the body.  Also, the clay itself has a range of nutrients. Bentonite clay is known to have an abundance of minerals, including calcium, magnesium, silica, sodium, copper, iron and potassium.
Book A 80 Body Exfoliation with Detox Mud Wrap Online
Book A 110 Body Exfoliation with Detox Mud Wrap Online
What Can be Added to my Body Exfoliation with Detox Mud Wrap?
To learn about our Body Treatment Add-Ons CLICK HERE.  Please be sure to book this add-ons when booking your body treatment.  You can always call us for assistance at (484) 580-9063.
Contact Us
[/vc_column][/vc_row]