Body Exfoliation with Detoxifying Volcanic Mud Wrap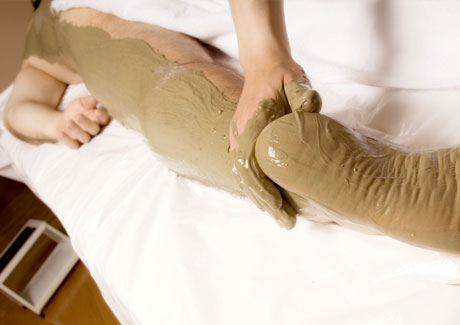 A full dry brush with exfoliation prepares your skin for this decadent experience. Minerals from ash have been boiling and fermenting for centuries, creating a highly potent blend of sulfur, spring water and phytoestrogens. These elements have been combined into an Herbal Volcanic Mud Masque that is used to detoxify, purify and stimulate your lymphatic system, releasing toxins and excess fluids from the skin. First your body is dry brushed to loosen dead skin debris, cleansed and then treated to prepare for an herbal masque. Next your body is wrapped to encourage circulation and perspiration, which releases toxins from the skin. Finish the experience with a soothing body lotion application. (110 minute experience includes a mini-facial) 80 minutes/110 minutes
Book Now
Mineralizing Body Scrub and Sea Wrap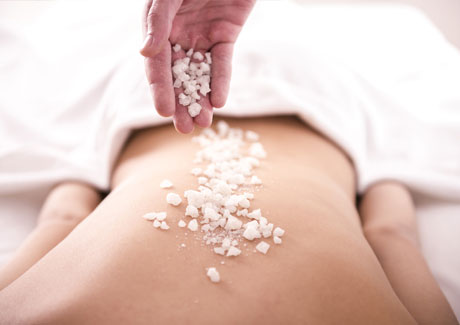 Feel the power of the ocean as plants from the sea re-mineralize your skin by providing valuable vitamins and antioxidants. Your skin will be gently exfoliated using a seaweed derived body scrub. Then you'll receive a scalp and foot massage while cocooned in a warming, seaweed body mask and wrap.  Finish the experience with a custom lotion application, using sea derived body lotions and essential oils that will deeply replenish your skin and relax your entire body and mind. Medical grade and organic products are used. 50 minutes/80 minutes
Book Now
Chose your flavor Wrap and Scrub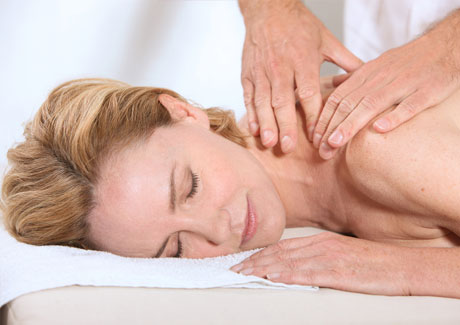 Experience a custom designed organic body treatment that is delectable enough to eat. Using organic flowers, fruits and vegetable derived ingredients, your skin will enjoy an invigorating body exfoliation. A custom designed stimulating wrap and mask in your flavor of choice surrounds your body.  Finally a full body hydrating massage culminates the experience. Chose your flavors seasonally. Typical examples below.  50 minutes/80 minutes.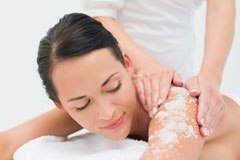 Age Defying with Coconut, Apple, and Mango (highlights includes Swiss Green apple stem cell treatment)
Indulge in Antioxidants with decadent Chocolate Escape (highlights include Chocolate Sugar Scrub, Chocolate Truffle Wrap), Beach Party (highlights include raspberry liquor infused body scrub)
Book Now
Men's Back Defining Experience
This full body experience will emphasize treatment of the back and is designed for men seeking to sculpt, define, and rejuvenate your skin and muscles in this area. The experience begins with circulation stimulating scrub and exfoliation of the entire body with special attention to the back area. Your exfoliation, scrub, and wrap will be custom designed by our professional staff based on your skin care goals and existing skin conditions to increase the circulation to your back This increased circulation will enhance muscle healing and new muscle formation.  Finish the experience with a full body lotion application, using all natural body lotions and oils that will deeply replenish your skin and relax your entire body and mind. Medical grade and organic products are used.
Book Now
Recommended add ons:
Microdermabrasion: A mechanical exfoliation treatment using organic crystals and vacuum pressure to gently shed layers of aged skin revealing new, tighter, and healthier skin. Microdermabrasion can reduce the effects of acne scarring, hyperpigmentation, sun damage, fine lines and wrinkles, giving the skin an overall rejuvenated appearance.. Add 40 minutes
Botox: Reduce those wrinkles on your forehead and around your eyes. Look years younger. It is critical to start Botox treatments before the creases become too deep to correct without more aggressive methods. Add 30 minutes
Fillers: Give your face more fullness and reduce the lines on the lower face and lips. Add 30 minutes
Essent Laser Rejuvenator: Treat the red and brown pigments on your skin while tightening your skin with this laser treatment. Reduce age spots and look years younger. Our laser treatment is the best method for you to simultaneously get more even skin tone and tighten your skin. (Consider treating your hands and décolleté at the same time!) Add 40 minutes
Physician Grade Chemical Peel: Allow our expert staff create a customized peel that targets your skin goals and pre-existing skin conditions. This treatment enhances the effect of a facial. Add 30 minutes
Express Oxygen Facial: Let our expert staff infuse a custom tailored serum into your skin using oxygen. High pressured oxygen will enhance the penetration and effect of the serum and stimulate more collagen formation. This treatment has immediate anti-aging results with no downtime. Add 40 minutes
MicroPen: Our professional staff will use the Skinpen to create microchannels in the outer skin layers resulting in deeper penetration of medical and organic serum. Stimulate new elastin and collagen formation as a medical grade serum is infused into a deeper layer of your skin giving your face, neck, decollete, or hands a more youthful appearance. Add 40 minutes
Microcurrent Serum Infusion: Microcurrent will stimulate your facial muscles using a painless, low level electric current to enhance your collagen and elastin production. Microcurrent facials are a safe and non-invasive procedure that will sculpt your face, accentuating cheekbones, lifting the brow, smoothing out wrinkles, and defining your jawline. In conjunction with microcurrent treatment, a custom selected serum made with organic ingredients will be infused into the skin to target your skin type and concerns. Add 40 minutes
LED Treatment: The science behind this treatment is based on research by NASA which showed certain frequencies of light increase new tissue growth, stimulate collagen production, and reduce fine lines and wrinkles. Our experts will help you choose your light color: Red (reduces age spots and sun damage) and Blue (attacks acne-causing bacteria decreasing acne). We have the ability to mix these lights to target multiple skin conditions. LED treatments accelerate cellular metabolism and collagen production, resulting in smoother and softer skin. Light Therapy evens out skin tones, plumps out small wrinkles, and tightens skin. Add 20 minutes
Laser Hair Removal: Reduce unwanted facial, neck, body or hand hair with this fast, comfortable hair removal experience. We use state of the art laser technology for a pain free result without the use of messy gels. With the combination of the newest and best laser hair removal technology and experienced staff, we offer world-class results. Add 20 minutes